Learn More

AT&T NetBond
Companies seeking to move mission critical applications to the cloud, consider security, performance, and control as barriers to greater adoption. These barriers are addressed by a Network Enabled Cloud (NEC) strategy which combines the control, protection and performance advantages of a private cloud with the economies and elasticity of public cloud services. AT&T's innovative NEC capability, AT&T NetBond, is a foundational element for providing a highly flexible and simple way for AT&T customers to utilize their Virtual Private Networks (VPN) to connect to any cloud compute or IT service environment in AT&T's partner ecosystem. This solution bypasses the Internet entirely providing secure and seamless access to enterprise applications and data.
For more information, contact us.
Unlike public cloud services delivered via the Internet on unsecured networks, AT&T NetBond extends MPLS VPN to the cloud computing platform, isolating traffic from other customer traffic, creating a private network connection. In addition, this service allows both the network and cloud infrastructure to scale or contract in tandem and on-demand, rapidly accommodating workload changes. AT&T NetBond is well suited for customers who want to avoid exposure to the public Internet and risk of DDOS attacks, as well as, have a highly available and high-performance connection to their cloud resources.
The solution is designed around the following keys areas:
Flexibility. Network bandwidth is optimized for your workloads and fully scalable
Network Security and isolation. Intelligent routing directs traffic to logically separated customer environments on shared physical infrastructure.
Availability and performance. The solution is built on a stable, robust and scalable technology platform resulting in up to 50% lower latency and up to 3X availability.
Automation and control. The solution uses automation and a self-service portal to activate service changes in hours versus weeks.
Currently there are no optional services available for AT&T NetBond.
AT&T NetBond uses AT&T cloud network enablement technology with a common service management platform.
By extending a customer's VPN network (via AT&T's MPLS core backbone ) to the compute resources at select cloud services providers, AT&T is able to provide customers with an efficient and highly-secure way to utilize their cloud services. AT&T's patented networking technology isolates customer traffic from other cloud traffic all the way down to the VLAN and virtual machine providing enterprise-grade network security for mission critical workloads. The cloud and network are pre-integrated to get you up and running quickly with any cloud from select providers as an endpoint on the AT&T VPN.
Our Network is logically secure. It allows trusted customer separation to deliver appropriate cloud resources privately and securely. Intelligent technology for highly granular routing of IP addressing across globally diverse, distributed data centers, centralized routing control assures high availability and customer data separation within the network.
On-Demand. Coordinated, on-demand provisioning of private network connectivity and cloud compute resources and scalable architecture enables dynamic workload distribution across a customer's hybrid cloud.
On-Network. The network can expand as needed since capacity is managed as part of the service. AT&T's integrated architecture delivers:
High-bandwidth availability and access to real-time cloud services
On-demand scalability
A software-defined and virtual connection that eliminates the need for dedicated infrastructure
Lower latency and greater availability compared to Internet-based solutions
Common security policies for mobile and wireline endpoints
AT&T NetBond provides bandwidth on demand with minimum commitment and dynamic utilization. This pay-as-you go model can result in savings as much as 60% versus traditional private access methods. For more information, contact us.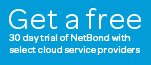 Does this service offer the ability to reserve capacity?

This service does not offer reserved capacity because it provides the flexibility to change or purchase additional capacity as needed.

How do I know which options I need?

The supporting sales teams from AT&T assigned to the client will assist the client in the overall evaluation of cloud migration benefits. The team has many resources to assist in the evaluation for the client. Integrated network to compute resources with dynamic capabilities inherently delivers a vital benefit that the client can realize immediately. AT&T has tools and expertise available to assist with the ROI metrics.
How do I configure private networking?

AT&T NetBond is only available via private networking. No Internet access is available with this joint offer. At this time, clients must have AT&T VPN networking in order to access the platform. Configuration will take place during the onboarding process.